Finances
Rise: Business Management offers easy-to-use instruments for comprehensive financial management from budget planning and managing assets to expense analysis and settlement.
Budget Planning
Rise: Business Management provides budget-planning tools that help you set your financial aims and optimize your company's resources to gain them.
You can set the Cash Flow Budget to understand your company's money requirement and financial situation. At the same time, it helps you plan direct and indirect costs, income and expenses, as well as assess your company's financial result.
You can also execute a plan-fact analysis of budget performance, both for the whole company and for each department.
Balance Sheet
Rise: Business Management includes features for setting a balance sheet and generating turnover balance sheet reports, which comprehend information on current assets, obligations, capital and reserves.
You do not need to have detailed knowledge of management accounting to create and read the balance sheet, as it is generated automatically relying on data from the chart of accounts.
Profits and Losses
Rise: Business Management provides features for keeping accounting of income and expenses and calculating the financial result that help you estimate your company's performance. 
The solution offers two ways to define income and expenses: an accrual method and a cash one.
You can keep analytical accounting of income and expenses in terms of business areas, customer orders, or income/expense items.
In Rise: Business Management you can record management and business expenses that do not belong to any specific activity as general company expenses. Another option is to allocate expenses partially to an activity and partially to the company as a whole. The solution can allocate expenses among categories automatically according to the user-defined rules.
Powerful reporting tools will help you get full information about your company income and expenses, profits and losses, and the financial result.
Assets
Rise: Business Management facilitates the management of tangible and intangible assets. You can set up an automatic depreciation accrual.
The calculation options include fixed monthly deductions and deductions based on asset usage (for example, on car mileage).
Settlement
Rise: Business Management streamlines recording, control, and analysis of settlements with your suppliers and customers. Settlements are broken down by counterparties, contracts, orders, or documents. You can link a payment to one or more documents.
Accounts Receivable and Accounts Payable
Various reports are available to help you analyze mutual settlements.
You can classify debts by creation dates; this will help you see which customer's debts are relatively "new" and therefore require attention before they turn into "old" debts.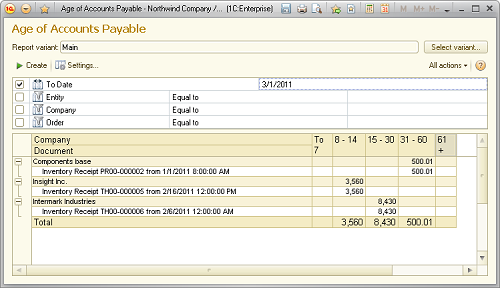 Overdue payables and receivables can be viewed as charts or diagrams or displayed on the desktop (for example, as a part of the Management Dashboard).

Financial Resources
Rise: Business Management helps keep records of cash flows in bank and cash accounts, and schedule payments.
Payment Calendar
The payment calendar is an easy-to-use tool for finance planning, which gives you control over your financial obligations. The main purpose of the calendar is to prevent cash deficiencies (situations when there is not enough money on hand to perform scheduled payments). It can also help you determine payment priorities.
The payment calendar shows overdue payments, which is often required by small business owners or financial directors.
The payment calendar is generated based on scheduled payments and expenses (such as purchase orders) and on other financial plans.
Cash and Non-cash
To keep cash accounting, you can register several cash funds, for example, the main cash fund, the manager cash fund, etc. With Rise: Business Management, you can register cash receipts, expenses, and movements, print credit and debit slips, and keep records of funds in foreign currencies.
You can also register non-cash crediting and debiting, generate outgoing payment orders, and keep records of funds in foreign currencies.